---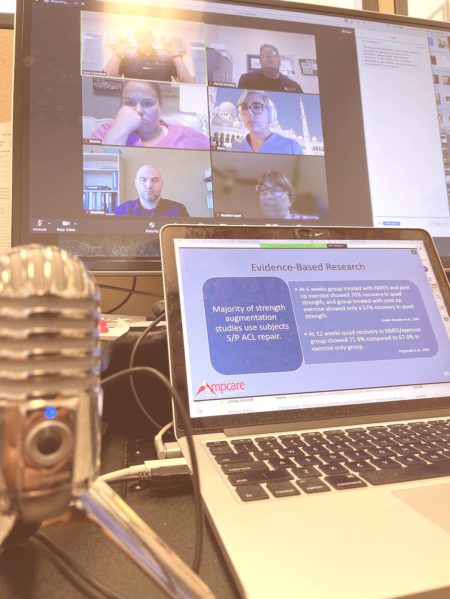 Pre-recorded + Zoom
Live training without the travel 
Travel may not be an option, but it doesn't mean you have to completely miss out on the real-time learning experience. 
Here's how it works…
First, complete 4 hours of pre-recorded online training.

Next, attend the 4-hour, live remote training over Zoom for real-time demonstrations with the Ampcare electrodes, resistive device, and dysphagia exercises. Ask your questions as they come to you!

Offered for 0.8 Advanced ASHA CEUs
Cost of training without equipment: $300
Cost of training with equipment*: $250 at checkout with an invoice for $799 + tax upon receipt of your registration form (Course discount is $50 with kit order)
*Equipment included in the Ampcare ESP Kit: The ESP Kit includes the ES muscle stimulator, 2 AA Batteries, 2 Lead Wire sets, Users Manual, new Carrying Bag, 10 packages of E Series Electrodes (Large/Adult or Small/Youth sizes available), the Restorative Posture Device (RPD), 1 set of replacement pads for the RPD, 2 Boxes of Skin Prep wipes, and 1 roll of non-adhesive wrap. Your ESP Kit will be shipped to you upon completion of the 8 hours of CE.